Conservation Initiatives
Read more +
05 April 2017 By Sandeep Menon in Conservation Initiatives
WASI submitted this report to the Karnataka Forest Dept. and the Fisheries Dept. after the fieldwork done at Galibore in 2015. This was followed up by a presentation to the PCCF and his team, where WASI's office bearers and Dr. AJT Jonsingh were present.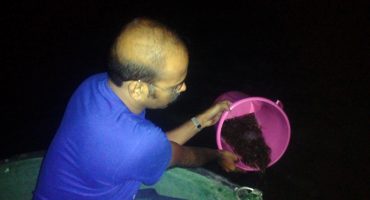 Read more +
12 February 2017 By Sandeep Menon in Conservation Initiatives
We are pleased to inform our members that over 1 lakh fingerlings of native species procured from the fisheries department, were released in our lease areas. In addition, 25,000 fingerlings of Murrel were procured and released as well.
Read more +
11 February 2017 By Preetish Poonja in Conservation Initiatives
WASI has undertaken a search for the endemic Humpback Mahseer (Orange fin) along with renowned experts like Dr. AJT Johnsingh and Dr. Rajeev Raghavan. Permission has been obtained from the Tamilnadu forest department to carry out this research in relatively undisturbed waters.
Conservation News
16 April 2017 By Sandeep Menon in Conservation News
Sanctuary Asia, April 2017. The Mahseer Conservation Planning Workshop in Kochi commenced on April 4, 2017. The Workshop, a preliminary session preceding a two day conference hosted by The Mahseer Trust, was organized by Kerala University of Fisheries and Ocean Science.
15 April 2017 By Sandeep Menon in Conservation News
TOI, May 19, 2016. A hatchery with an outlay of Rs 6 crore ($900,000) has been set up at Machhial near Jogindernagar town in Mandi district to rear the mahseer, also known as the tiger of Indian rivers, to breed the fish and release its fingerlings into the wild
15 April 2017 By Sandeep Menon in Conservation News
The Hindu, June 6th, 2015. "The 'Mighty Mahseer' is the kind of legendary fish that makes anglers traverse continents in the mere hope of sighting one. It is the only fish that made three Englishmen travel overland to India in search of the presumably extinct fish.