WASI Membership
Membership of WASI is open to all nature lovers and responsible angling enthusiasts. To understand the conditions and joining process, please go through the attached membership form. You may also contact the office for further clarifications.
Activities at WASI
Research Activities and field trips to support our conservation measures.
Training & Education for enforcement agencies and collaborating organizations.
Angling, Cottage Stay and Camping along our lease areas
Bird watching along the river and around our lease areas.
Photography of wild life and nature.
Coracle rides in the lakes and permissible stretches of the river.
Trekking with the help of one or more guides.
Anti-poaching patrols with our guards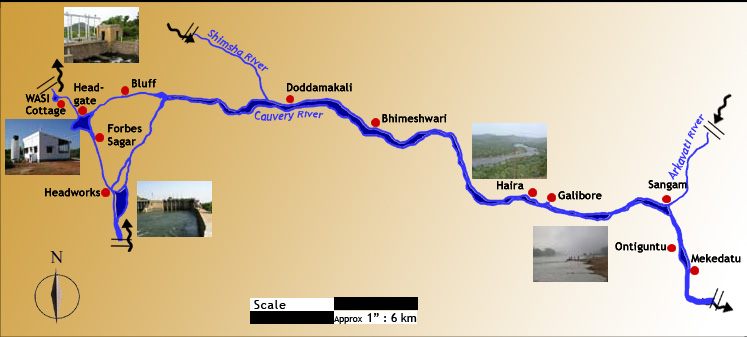 Our Cottages
WASI protects 3 stretches of the Cauvery river, which are leased to it from the fisheries department. All 3 stretches are currently around the Shivanasamudram area near Malavalli - Kollegal, roughly 110 Kms from Bangalore.
We also have a bit of land adjoining a lake near the Shivanasamudram bluff area and there are two cottages built on the land, for use by our members. The cottages are reasonably well appointed with 4 beds each, modern bathrooms, a dining area, a functional kitchen with refrigerator, utensils and convection oven, petromax stove etc. There is also space around the cottage for camping and an external bathroom for use by campers. We are currently in the process of installing a drinking water purification system as well. The cottages can be booked by members through the WASI office. Our guards will assist anglers and are also required to ensure that catch and release guidelines are followed. Kindly also fill out catch records for research purposes.
Important Guidelines:

* Sensitivity to the environment is our topmost priority
*Ensure that all non biodegradable products are taken back to the city & disposed appropriately
*All Mahseer and notified species are to be released back into the water where they are caught
*Life jackets are compulsory if you venture onto the lake in the coracle
*The coracles provided are to be piloted only by the guards
*Photography is not permitted in some areas, especially at Headworks and the Bluff
*The guards at WASI locations have been instructed not to entertain members or their guests without valid camping and fishing permits
*Members are responsible for all guests who join them at the lease areas
*All members and their guests accept the WASI terms of use as specified in the disclaimer below
 .